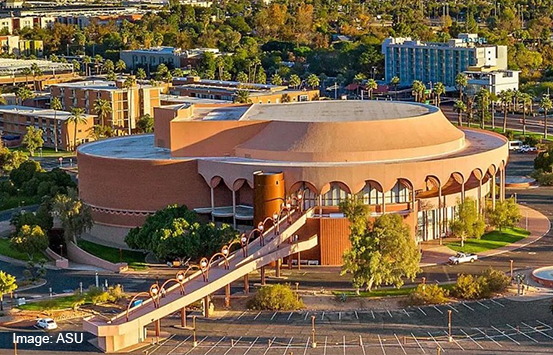 Sustainable Urban Ecology and Landscape Performance at ASU
An Arizona State University (ASU) team made up of practitioners and researchers are using landscape performance metrics to support a new vision of Sustainable Urban Ecology as they plan for ASU's future landscape management. ASU's Sustainable Urban Ecology plan focuses on managing and incorporating natural systems, with particular attention to enhancing biodiversity, water conservation and extreme heat mitigation, with a particular focus on the Sonoran Desert Biome that is home to four ASU campuses. As a continuously unfolding applied research project that will inform future campus planning, this exploration of campus as a Sustainable Urban Ecology will yield new plant palettes, tools to adapt the current ground plane to climate impacts, and goals and targets to enhance existing key biodiversity areas—while providing environmental, social, and economic benefits for campus users, both human and non-human. The team working on the Sustainable Urban Ecology plan considers it essential to use ASU's campuses as a laboratory to understand the sustainability of campus design and to provide evidence-based design. ASU Orange Mall, the first SITES-certified landscape project on campus, was documented as part of LAF's 2020 Case Study Investigation program.
The project team of campus stakeholders taking on the first phase of the Sustainable Urban Ecology plan includes Byron Sampson and Norman Yatabe, both landscape architects in the Office of the University Architect; Chingwen Cheng, Director of the Stuckeman School and Professor of Landscape Architecture at Penn State (formerly Program Head and Associate Professor of Landscape Architecture, Urban Design, and Environmental Design at the Design School at ASU); and Jen Clifton and Alicia Marseille from ASU's Rob and Melani Walton Sustainability Solutions Service. The team is also supported by Erik Houston, Dave Torrens, and Director Alana Levine from ASU Facilities Development and Management, graduate students Mojtaba Tahmasebi and Azza Dhahri from the Design School, and Dr. Gwen Iacona of the School of Life Sciences.
Several of the key research questions to guide the integration of Sustainable Urban Ecology at ASU include:
What type of plan or program needs to be in place to protect or positively impact

native

species, habitats, and/or ecosystems?

What are quantifiable benefits and values (environmental/social/economic) of Sustainable Urban Ecology?

How could these benefits be communicated to

ASU

administration, faculty, staff, and students,

as well as the larger community

?
Evaluating the landscape performance of existing campus landscapes is key to the first phase of the research. The project team selected the ASU Grady Gammage Memorial Auditorium (GMMA) as a site of interest due to its status as one of ASU's most architecturally iconic and recognizable sites while also being one of the least sustainable areas on campus, with large impervious parking lots and water intensive landscape plantings.
As part of this effort, a report prepared by Chingwen Cheng and Mojtaba Tahmasebi utilized LAF's Guidebook for Metrics and Methods Selection to identify research criteria as well as a series of studies for Gammage Memorial Auditorium, utilizing interview and survey questions and data collection in the field to capture recreational and social value, cultural preservation, traffic safety, scenic quality, transportation use, and access and equity, as well the site's performance in terms of water, carbon, energy, and habitat. 
A baseline biodiversity analysis targeting plants, conducted using an inventory in iNaturalist as well as the plot sample method, found that 68 species of plants (not including cultivars) were present, creating a novel plant community that is mostly horticultural and does not resemble plant community composition in the Sonoran Desert biome. Bird and pollinator diversity was observed to be low compared to other areas of Phoenix. The researchers also evaluated management costs for the extensive turf landscape. Recommendations based on evaluation of the current Gammage Memorial Auditorium site included the need to add more trees for cooling and maintain areas with the lowest surface temperature. Recommendations also include addressing lawn and mulch areas in ways that support the functional aspects of the site while also sustaining a desert ecology and maintaining the cultural and historic significance of the space.
The researchers analyzed three previous Landscape Performance Series Case Study Briefs—Wayne Ferguson Plaza, University of Georgia Science Learning Center, and Samford Park at Toomer's Corner—as examples for what is possible if the Gammage site were to be redesigned. Surveys were distributed and focus groups held to engage campus users, capture their reactions to the Gammage site, and envision possible design options.
The results of this research and the efforts of the project team will be used to communicate the low-performing aspects of the Gammage Memorial Auditorium site and propose new site and campus guidelines based on Sustainable Urban Ecology in order to increase environmental, social, and economic benefits. The ultimate goal of the Sustainable Urban Ecology effort will be to demonstrate to the community beyond the campus what can be accomplished in creating exterior spaces that enhance and support the Sonoran desert biome. Through this effort, a landscape performance-based approach is supporting ASU in reaching key sustainability and biodiversity goals.