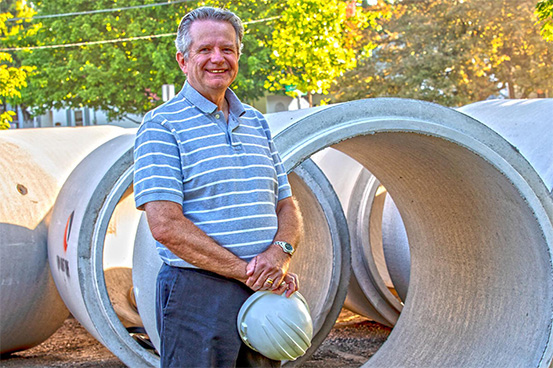 Landscape Performance and Aesthetics: Lessons Learned from a Career
Ron Koudys, FASLA, FCSLA, is a landscape architect in London, Ontario and founder of Ron Koudys Landscape Architects, Inc., a practice with projects in southern Ontario and further afield in the United States, the Caribbean, and the United Kingdom. Ron is currently pursuing a Doctor of Design at the University of Calgary, which he sees as an opportunity to reflect on past projects and attempt to capture the essence of what has been accomplished over the course of his career.
While pursuing his doctorate, Ron was attracted to the concept of landscape performance and the value of a landscape architecture approach. After discovering LAF's Guidebook for Evaluating Landscape Performance, he decided to evaluate his past projects based on environmental, social, and economic benefits using LAF's landscape performance metrics, while making some expansions of his own—particularly regarding aesthetic value.
Ron notes that he was familiar with tools to estimate the value of landscapes like i-Tree or the Pathfinder Carbon Calculator, but he was driven to go deeper and explore the question "why do clients hire landscape architects?" and the unique value-add of landscape architecture. He had noticed over his career that clients did not comment so much about the environmental, social, and economic value of landscape architecture, but more about its aesthetic value. He perceives that the discipline has, to a degree, moved away from landscape architecture as art, and that it is treated more as a scientific or engineering-focused process. To acknowledge that shift but tie in what he believes is a major value-add of landscape architects (aesthetics), Ron developed a landscape performance framework that allows him to evaluate his work in terms of environmental, social, and economic value, but also in terms of aesthetic value.
To develop this framework, Ron selected several projects from throughout his career that he calls "aha" projects. The first was a design for the exterior of the largest chain of grocery stores in Canada, where the client was focused primarily on the economic necessity of getting customers quickly through the landscape and to the front doors. Ron was able to advocate for the value of a positive experience from as early as when a potential customer drives by the store, leading to a more attractive and sustainable site design that was ultimately implemented in all of the chain's locations. This approach contributed to the chain becoming the largest in Canada and changed the way the client viewed their stores when going into site plan approvals, raising the bar for other competing grocery store chains as well.
The second project Ron is focusing on is a 100-acre office site. During site planning in the early 1990s, Ron recognized that the site was a major employment facility that draws many people in their cars to work each day and felt that offsetting those impacts would be a worthy goal. "We didn't even use the word sustainability at that point because it wasn't part of the consciousness of that time," Ron recalls, "but I proposed planting trees to offset those negative impacts to the president of the company." Fifty acres of trees were ultimately planted with the help of local schoolchildren, providing not just environmental, but also social and educational value. In the intervening years, the site has become a true forest. As part of his current research, Ron has identified that the forest's outer edges are well-established, but the interior has several large empty patches. He recognizes the value of returning to the project, even years later, to understand what may not have worked well.
As he continues to pursue his degree, Ron will evaluate each of these sites (along with a third—the first Alzheimer's garden in North America located at a hospital), develop case studies with performance benefits, and then look at subsequent projects to identify how his firm's values have changed over his career due to not just gaining new knowledge but also due to changing societal values and legal frameworks. He will also explore how his own values affected the decisions and choices that he made as a designer. Ultimately looking at a career's worth of projects in terms of benefit is merely the beginning of his process. While exploring what society, clients, municipal and other agencies value in the work of landscape architects, he hopes to also reveal truths about himself and his practice that he can use in communicating with future clients. For Ron Koudys, the in-depth exploration of landscape performance over a career is leading to new insights about practice and the role of the landscape architect.
To learn more, watch Ron Koudys' 2019 London Architecture Series lecture "Ruminations on 40 years of practice".