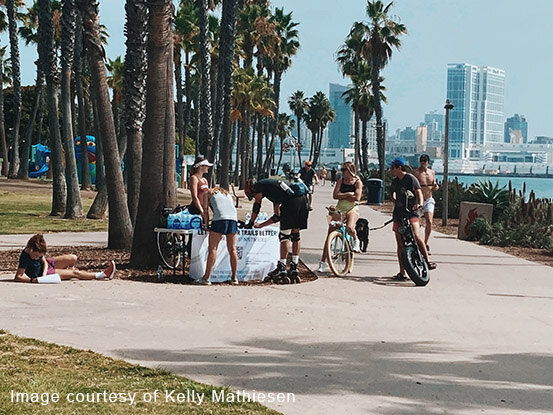 Evaluating Urban Trail Needs
by Kelly Mathiesen, SWA Group
Each year, SWA Group awards the firm's Patrick T. Curran Fellowship to employees who look to challenge thinking in the landscape architecture profession and provide tools and resources for the firm and industry. Landscape designer and 2021 Curran Fellow Kelly Mathiesen took a landscape performance approach, looking at which elements are important in creating successful urban trails for runners and cyclists and how the rise of these recreational communities will affect the future of trail design.
Throughout the COVID-19 pandemic and with the general rise in healthy lifestyles, use of trails and outdoor spaces has grown. The running and cycling communities, in particular, have seen tremendous growth. Similar to William H. Whyte's studies of urban plazas, Mathiesen went into the field to observe and survey members of the running and cycling communities who use renowned urban trails across the country. A marathoner and cyclist herself, she also used the trails and added her own observations to the study as a dual-pronged approach.
After researching which trails were highly ranked by their corresponding communities, the following trails were selected:
American River Parkway (Sacramento, CA)
Bayshore Bikeway (San Diego, CA)
Buffalo Bayou Park (Houston, TX)
Katy Trail (Dallas, TX)
Charles River Bike Path (Boston, MA)
Mathiesen documented key elements along each trail and parameters such as trail width, variation, and accessibility. On-site surveys asked trail users to recall aspects of their experience such as: shade; pavement type; landscape quality/diversity; grade change; moments of interest such as art, views or wildlife; and access to amenities such as bathrooms, water stations, bike pumps, and bike racks. Mathiesen used speed as a variable to interpret differences in user experience and the aspects they noticed along the trails. She also used the reported distances traveled and trip purpose (commute or recreation) to better understand user perspectives. 
The data was intended to help identify patterns in users' observations and what they may be looking for while out on the trail in order to inform design. More runners recalled artwork and scenic views and they expressed an increased need for amenities when compared to cyclists. Cyclists noticed changes in pavement quality and focused more on trail surroundings than views and moments of interest. Many users reported wanting "rules of the road" to be implemented in a way that is easily understandable to anyone, as accidents are common on multi-use trails due to a lack of awareness.
While connecting with users, Mathiesen also gathered information about additional elements on urban trails that designers should be considering related to safety, accessibility, visibility, and electric micro-mobility. Most users, regardless of type, communicated that they preferred trails that separate cyclists from runners and pedestrians. 
One of the biggest misconceptions in trail design is that runners and cyclists should be put in the same category, but they actually have very different needs on a multi-use trail. This study further supports that designers need to specifically define the user types that a trail will cater to in order to properly support them. Both defining the users and utilizing guidelines specific to those user types is imperative when creating a trail that will serve as a valuable community asset. As our world continues to urbanize and the need for outdoor amenities increases, designers need to articulate and adopt design practices that properly support active users as part of healthy, resilient communities.