Time and Landscape Performance
Have you ever visited a park or public space that you saw pictured in a glossy publication, just to discover that it didn't quite live up to the photos? Simon Colwill at the Technical University of Berlin is working to increase the knowledge of the myriad factors that contribute to the aging, patination, and decay of built landscapes over time. Colwill's work recognizes that while aging can create positive changes in a landscape, the machinations of time can also chip away at the effectiveness and usefulness of an otherwise well-designed landscape and be detrimental to its performance.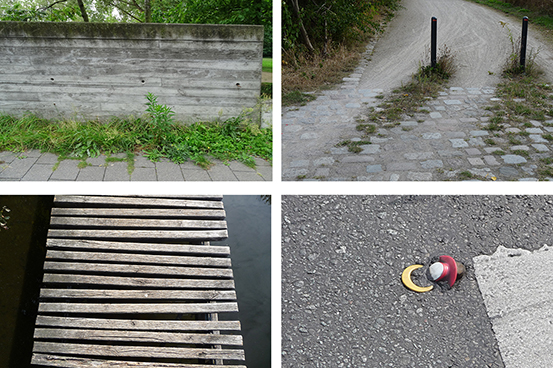 Examples of change to landscape details over time. (Images: Simon Colwill)
Colwill captured an astounding 80,000 photos in public spaces in Berlin between 2008 and 2017 of projects dating from 1990 to 2015, documenting changes in landscape details such as steps, paths, seating, and walls. This meticulous, year-by-year method of collecting data has targeted the primary agents of landscape transformation over time which are: 
Site and contextual factors such as the degree of exposure, topography and aspect, soil mechanics, and influences from surrounding elements such as traffic, buildings and especially vegetation.
Design and detailing factors that come from designers' handling of the materials, including geometry and form, suitability of materials and construction methods, and ease of maintenance and repair.
Material-specific factors that require in-depth knowledge of each material such as quality, durability, and surface protection.
Implementation factors such as workmanship, site supervision, construction technique, and conformance with construction standards.
Effects of environmental processes and weathering such as climatic agents, temperature, humidity, wind, atmospheric contaminants, surface soiling, biological agents, and spontaneous vegetation growth.
Impacts of user actions such as overuse, misuse, and underuse.
Maintenance and repair factors including the frequency, quality, and intensity of repair—lack of maintenance or incorrect maintenance is one of the primary contributors to accelerated deterioration.
Force majeure such as flooding, fires, storms, riots, and natural disasters.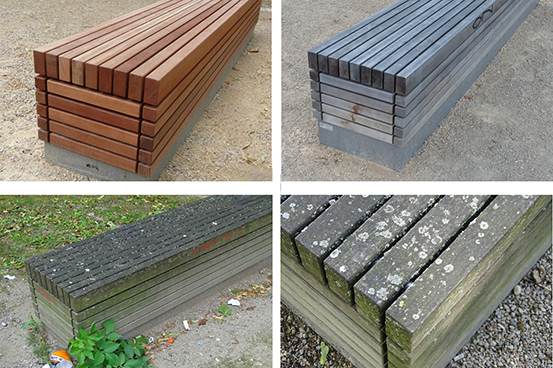 Change to a wooden bench over 7 years in full shade under a canopy tree. Top left: Year of completion. Top right: 1 year after completion. Bottom left: 7 years after completion. Bottom right: 7 years after completion. (Images: Simon Colwill)
Through the use of the extensive photographic database and case studies, Colwill's research, funded by the DFG/German Research Foundation, will develop methods for monitoring built landscapes over time, identifying key causes of change, developing optimization strategies and methods for forecasting change, and, crucially, disseminating the research findings to practitioners.
Of course, extensive knowledge exists within the profession and among landscape architecture firms about the effects of time on materials and built projects, but the profession often lacks both research to back it up and institutional memory of such critical information, as evidenced in the occasional rapid deterioration and/or failure of some newly-built projects. Colwill's work represents yet another chain in the critical link between research and practice that is essential for projects to perform to their full potential. Practitioners must be able to understand the strengths, weaknesses, and other unique characteristics of each material and be able to forecast material performance over time—and Colwill's research is attempting to create the tools to enable that. 
To strengthen the level of feedback between academia and practice, Colwill has stressed the importance of his students in research. Students that participate benefit from a sort of 'reality check' on their perceptions of built landscape which were initially formed by ostensibly perfect projects portrayed in landscape architecture publications – students have a chance to understand that creating lasting landscapes isn't as effortless as it seems. Ultimately, Colwill's research seeks to contribute to a feedback loop for the profession, avoiding the repetition of failures and, eventually, ensuring that initial investments in projects are honored with an optimal and useful life in which they live up to their performance objectives. While it would be unrealistic to expect every built project to maintain the glowing quality of promotional photos throughout its life cycle, Colwill's research demonstrates another step in the direction of true "research and development" in landscape architecture. Colwill's contribution to understanding how our spaces change over time is advancing understanding of landscape performance and helping to bridge the critical connection between research and practice.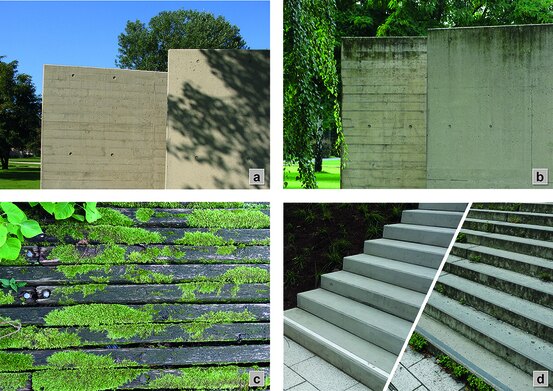 Deposits of airborne sediments on concrete wall in (a) year 1 (b) year 10. (c) Biological growth on wooden deck in year 17. (d) Biological growth limited to riser due to reduced trampling and maintenance in year 1 vs. year 7. (Images: Simon Colwill)
Simon Colwill can be reached at (email hidden; JavaScript is required).
Works cited:
Colwill, Simon. "Time, Design and Construction: Learning from Change to Built Landscapes Over Time." In Bridging the Gap. Rapperswil, Switzerland: ECLAS Conference Proceedings, 2016.
Colwill, Simon. "Time, Patination and Decay. In Creation/Reaction." University of Greenwich, London UK: ECLAS Conference Proceedings, 2017. 
Colwill, Simon. "Von Alterungsprozessen lernen", (German, French) Anthos no. 3 (May 2016):31-33.
Kirkwood, Niall. The Art of Landscape Detail. Fundamentals, Practices, and Case Studies. Hoboken, New Jersey: Wiley, 1999.